Sucks to be someone that (tries to) steal cars
MIAMI, Florida (CNN) — Authorities do not plan to file charges against a Florida orange grove owner who fatally shot a 21-year-old woman, saying he is protected under the state's controversial "no retreat" law.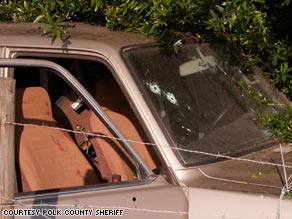 Bullet holes pocked the windshield of the crashed SUV, and blood stained he passenger seat.

But the woman's boyfriend faces second-degree murder charges in her death, because the woman was shot to death during an alleged felony — the theft of an SUV.
Tony Curtis Phillips, 29, didn't fire a single shot. He didn't even know his girlfriend, Nikki McCormick, was dead until police showed him an online news story.
Police said McCormick accompanied Phillips as he attempted to steal the SUV from a barn in an orange grove near Wahneta, Florida, before daylight Tuesday.
Grove owner Ladon "Jamie" Jones opened fire as the SUV approached him, according to an affidavit released by the Polk County Sheriff's Office. Phillips fled; McCormick was shot in the head and later died.
Authorities said Jones is protected by Florida's "no retreat" law, which gives him the right to use lethal force if he reasonably believes his life is in danger. Phillips, however, faces charges because police allege he was committing felony grand theft auto at the time of McCormick's death.
"Because his conduct caused her death, he gets charged with a felony," Polk County Sheriff Grady Judd said.
Phillips was arrested late Tuesday in Polk County, near Lakeland, after a day on the run. Police said he didn't believe McCormick was dead at first, telling officers, "Of all the times you've questioned me, this is a nasty trick you're playing on me this time." He agreed to cooperate if detectives could prove she was dead.
Judd said detectives called up the shooting story on the local newspaper's Web site and "let him read it online, and that's when he broke down and cried, and gave us a confession," Judd said.
According to the affidavit, Jones heard his Toyota Land Cruiser, parked in the barn at his orange grove, start up before daylight Tuesday. Jones told police he grabbed his gun, a 9mm that he keeps with him while working at the grove. He said he could see two people in the SUV as it backed out of the barn, according to the affidavit. He said he saw the passenger's arm reach outside the vehicle, and believed that person might be holding a gun.
The Land Cruiser stopped directly in front of him, Jones said in the affidavit. He said he raised his gun and pointed it at the occupants, shouting "Stop," but the vehicle appeared to be moving directly toward him.
"Fearing for his life, he then fired what he thought to be six to eight rounds into the front windshield of the vehicle," the affidavit stated.
The vehicle backed up at high speed, crashed through a fence and ended up in a ditch. Jones told police a man jumped out of the SUV and ran away.
Sheriff's deputies found McCormick inside the vehicle with a bullet wound to her head. She was taken to Lakeland Regional Medical Center, where she died.
Jones did not return a call from CNN seeking comment.
Authorities will forward their information to prosecutors, Judd said, but are "not going to file any charges [against Jones] at this point, because we don't see any reason to arrest Mr. Jones," Judd said. "… It appears, at this point in the investigation, Mr. Jones was completely, legally justified in his actions."
A Polk County judge on Thursday ordered Phillips held without bond. A public defender was appointed to his case.
Polk County Public Defender J. Marion Moorman declined to comment on the charges to CNN. "We will, of course, be interviewing the client very soon, and will be undertaking his defense from there," he said.
Phillips told police he assumed McCormick had also gotten out of the vehicle and run away, according to the affidavit. He said he was sorry for what happened "and said he knew he was partially responsible for her death," the affidavit said.
Polk County State Attorney's Office spokesman Chip Thulberry said his office will review the case when the sheriff's investigation is completed.
The Brady Campaign to prevent Gun Violence says Florida is one of 16 states that have enacted "no retreat" laws, which some call "shoot-first" laws. The laws extend the right to use deadly force beyond a person's home and into public places.
"The shoot-first law is not needed," said Brian Malte of the Brady Campaign. "This person, regardless of the situation, may have done the right thing, but he cannot be prosecuted for doing something wrong if he hit an innocent bystander," he said.
Other groups stand by the "no retreat" laws.
"At the moment a crime occurs, victims don't have the luxury of time," said Andrew Arulanandam of the National Rifle Association. "They have seconds to decide on a course of action to protect their lives and their families. This law provides law-abiding people with options."