After 6 months of sitting on the shelf, @KC4HAD convinced me to sit down and make this thing work.
openSPOT is a standalone digital radio IP gateway / hotspot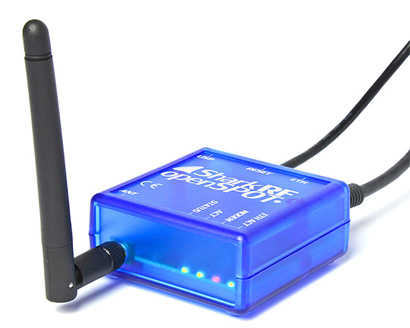 Key features:
Supports DMR (Brandmeister, DMRplus), D-Star (DCS, REF/DPlus, XRF/DExtra, XLX), System Fusion (FCS, YSFReflector) networks. More supported networks and features will be available with new firmware releases.
Supports cross modem modes. Talk with your C4FM radio on DMR, and with your DMR radio on System Fusion networks!
Very easy to use, works without a computer. No additional hardware required, works out of the box. All accessories included.
Web interface for configuration and monitoring.
HTTP, UDP/TCP API support.
Custom 2FSK/4FSK RF protocol support with TDMA.
USB powered, low energy consumption, 20mW RF output.
Create your own private radio network using our open source server application.
Runs fully embedded software written in pure C, running on an embedded real time operating system. No Linux, bulky Windows software or failing SD cards
One of the most interesting parts of this (for me) is getting a current status log, with user info, etc.  Kinda fun..
Was having quite an issue finding the correct software for my Hytera PD362.
Finally!  http://gigaparts.net/downloads/    gigaparts seems to be the local dealer for the ham line of radios, and offers this stuff for download
CPS 205.03.002 NA2  is what worked for me, After a quick run in with a "fake" prolific chips programming cable, I can at least read the radio!
Hytera PD362 DMR HT UHF Radio, 430-470MHZ, 256 channel, 3W, IP54
Pocket Size Design
The color display allows good visibility even under extremely strong light. The compact antenna design and light weight PC & Metal frame design. The PD362 is 4.84 x 2.17 x 0.91 inches weighing 5.64oz.
Micro USB Port
The Micro USB port allows you to use a standard USB to Micro USB to charge the radio.
Compact Antenna
The creative and compact antenna design makes the PD362 sleek and gives it a cellular phone feel.
Dual Mode: Analog & Digital
Dual mode (analog & digital) operation ensures a smooth analog to digital migration.
One Touch Call/Text
Supports One Touch features that comprise of Preprogrammed Text Messages, Voice Calls and Supplementary Features.
Simple Scan
Capable of scanning of analog voice/signaling or Digital voice/data.
Versatile Voice Calls
The intelligent signaling supports various voice call types, including Private Call, Group Call , and All Call.
Various Analog Signaling Types
Various analog signaling types various squelch control types (CTCSS / CDCSS), thus providing higher function expansion capacity to the analog world.
Monochrome Display
Two line display with monochrome color and supports messaging with up to 64 characters.
Frequency range
UHF: 430 – 470 MHz
Channel capacity
256 (128 Analog / 128 Digital)
Zone capacity
16
Channel spacing
12.5/25 kHz
Operating voltage
3.7 V
Battery
2000 mAh Li-Ion
Battery service life (5/5/90)
approx. 10 h (analog)
approx. 12 h (digital)
Frequency stability
±0.5 ppm
Antenna impedance
50 Ω
Dimensions (H×W×D)

4.84 x 2.17 x 0.91 Inches

Weight
5.64 oz
Transmitter
RF Power Output
UHF: 1.5 / 3 W
FM Modulation
(Analog Emissions Designator)
11 K0F3E at 12.5 kHz
16 K0F3E at 25 kHz
4FSK Digital Modulation
(Digital Emissions Designator)
12.5 kHz (data only): 7K60FXD
12.5 kHz (voice & data): 7K60FXW
Conducted/Radiated Emission
-36 dBm < 1 GHz
-30 dBm > 1 GHz
Modulation limiting
±2.5 kHz at 12.5 kHz
±5.0 kHz at 25 kHz
FM Hum & Noise
40 dB at 12.5 kHz
45 dB at 25 kHz
Adjacent channel selectivity
60 dB at 12.5 kHz
70 dB at 25 kHz
Audio Response
+1 dB to -3 dB
Audio Distortion
≤ 3%
Digital vocoder type
AMBE++ or SELP
Receiver
Sensitivity (analogue)
0.22 μV (12 dB SINAD)
0.22 μV (typical) (12 dB SINAD)
0.4 μV (20 dB SINAD)
Sensitivity (digital)
0.22 μV / BER 5%
Adjacent channel selectivity
TIA-603
ETSI
60 dB at 12.5 kHz / 70 dB at 25 kHz
60 dB at 12.5 kHz / 70 dB at 25 kHz
Intermodulation
TIA-603
ETSI
70 dB at 12.5/25 kHz
70 dB at 12.5/25 kHz
Spurious response rejection
TIA-603
ETSI
70 dB at 12,5/25 kHz
70 dB at 12.5/25 kHz
Spurious response rejection
40 dB at 12.5 kHz
45 dB at 25 kHz
Nominal audio power output
0.4 W
Nominal audio distortion
≤ 5 %
Audio sensitivity
+1 dB to -3 dB
Conducted spurious emission
< -57 dBm
Environmental Specs
Operating temperature range
-30 °C to +60 °C
Storage temperature range
-40 °C to +85 °C
ESD
IEC 61000-4-2 (level 4)
±8 kV (contact discharge) ±15 kV (air discharge)
Protection against dust and moisture
IP54
Shock and vibration resistance
MIL-STD-810 C/D/E/F/G
Relative humidity
MIL-STD-810 C/D/E/F/G
A friend suggested one of these, another in the next gen color screen, super cheap DMR radios.
VHF/UHF Dual-band Digital/Analog Part 90 DMR commercial transceiver with GPS and 1.77 inch color TFT display. Ideal for Fire, Search & Rescue, EMS, Police, Sheriff, Forestry and Security operations. 4,000 Channels with 10,000 Talk Groups. Frequency coverage 140-174 / 400-480 MHz. Includes USB Programming cable. 
Memory Channels: 4,000 channels
DMR Talk Groups: 10,000
Digital Contacts: 150,000 (Complete worldwide database from DMR-MARC)
Power Levels: 4 programmable power levels: 6/4/2.5/1 Watt Transmit Power LEvels
Zones: 250 zones, up to 250 channels per zone
Display: 1.77 inch color TFT Screen with selectable dual channel or single channel display
Battery: Operates 35+ hours between charges with the supplied 3150mAh lithium ion battery in the power saver mode
Bandwidth: 12/5/25.0 kHz Anaglg, and 12.5 kHz DMR
Import/Export: Enhanched CPS allows direct input and export of channels, digital IDs and talkgroups
Industries: Ideal for fire, search & rescue, EMS, police, sheriff, forestry, security patrols, business communications, schools, universities, and other organizations that have FCC licensed frequencies
DMR Compatibility: Supports both Tier I and Tier II operation, making it compatible with DMR repeaters that utilize two-slot TDMA technology
Amateur Radio: Also operational on amateur radio DMR networks and analog frequencies. Software importable worldwide amateur contact database
Programmable: FCC 47CFR90.203 requires the keypad locked in the shipping configuration. Software keypad unlocking and re-programming are available with the included USB Programming Cable.
Accessory Connection: 2-pin style Kenwood/Wouxun type earphone and speaker mic connection for a variety of accessories
Quiet Tones: 2-pin style Kenwood/Wouxun type earphone and speaker mic connection for a variety of accessories
Frequency Range: 136-174 / 400-480 MHz RX/TX
Package Includes: Dual-band VHF/UHF GPS Radio, 3150 mAh extended life lithium ion battery, desk charger w/ AC adapter, Dual-band GPS antenna, belt clip, free USB Programming cable and downloadable software, user manual
Certifications: FCC Part 90 Certified, FCC ID: T4KD868UV
I love the 2 cell power, and how I can drop the flaps and fly this thing in the yard almost as slow as I can run.  The reason the Motion RC Fly Boys really dig this new offering from E-flite is its ability to be flown nearly anywhere due to it's STOL (Short Takeoff and Landing) versatility.  The UMX Timber comes with leading edge flaps to decrease your takeoff and landing distance even further.  Stability is at the heart of this model and comes with the AS3X Receiver with Optional SAFE® Select Flight Mode so both beginner and intermediate pilots can fly with confidence.  Added realism like the LED light package adds another dimension with sunrise or sunset sorties.  With the optional float package (not included) extend your flight path even further to those watery runways.  A versatile and fun adventure awaits!
FEATURES:
Fly in impossibly small spaces with its STOL capabilities
Leading edge slats (optional) and fully functional flaps for short takeoffs and landings
Robust 180-size, 3000kV brushless outrunner motor provides plenty of punch
AS3X technology and optional SAFE Select mode for increased stability
Spektrum™ DSMX® 2.4GHz technology
Tundra-sized wheels and durable landing gear can handle rugged surfaces
LED light system installed for those sunrise or sunset sorties
Optional floats available for those water adventures (see below)
Battery compartment that is easy to access
Steerable tail wheel
No assembly required
INCLUDES:
E-flite UMX Timber BNF Basic 700mm (27.6″) Wingspan – BNF
REQUIRES:
OPTIONAL:
E-flite UMX Timber Float Set w/Accessories – EFLUA1190
I have been getting daily errors from certwatch, and I've just been ignoring them.  Today I decided not to, any more.
################# SSL Certificate Warning ################
Certificate for hostname 'webhost.robpatton.com', in file (or by nickname):
/etc/pki/tls/certs/localhost.crt
The certificate needs to be renewed; this can be done
using the 'genkey' program.
Browsers will not be able to correctly connect to this
web site using SSL until the certificate is renewed.
##########################################################
Generated by certwatch(1)
So my fix was this:
cd /etc/pki/tls/certs/
rm localhost.crt
make localhost.crt
mv localhost.key ../private/localhost.key
cd ../private/
cp localhost.key localhost.key.orig
openssl rsa -in localhost.key.orig -out localhost.key
Its been MANY weeks since I have been out to the local field to fly.   Got there just after 7 on a cold, 55degree morning, blue skies.  Took this pic before my first flight of the day.
One big thing for me at http://www.freeplayflorida.com  is the shopping for games.  Homebrew, new in box, etc.  To be ready for that, I've started (to late most likely) on the project of getting an accurate inventory of what I have.  I've tried this before, but it always gets out of date.
This year I purchased a full copy of https://www.collectorz.com/game/game-collector  to help with this task.   It does a lot of the work for me, though its not good with homebrew stuff.    My final inventory list can be found at   http://www.robpatton.com/cvgac/AtariJaguar/Jag.html
Starting bin of Jaguar stuff:
Many of the homebrew titles required some scanning to add.